Online Training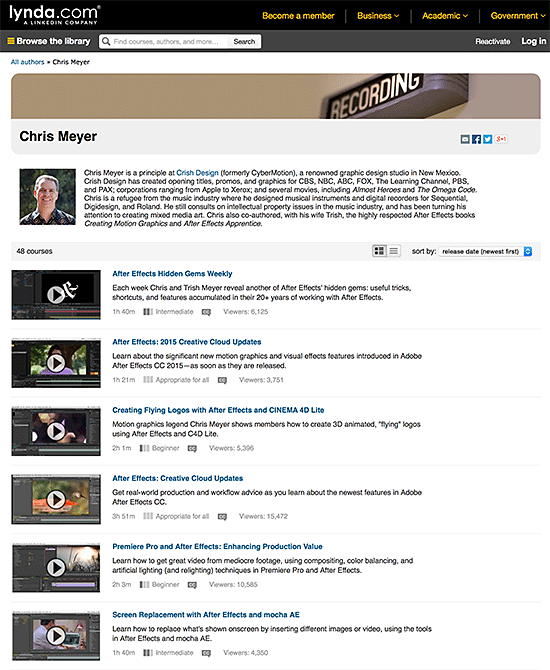 Online Training News
We are re-releasing After Effects online training courses that Lynda/LinkedIn Learning have dropped from their site because they were a few years old. As any user of Adobe software knows, even though new features get added all the time along with the occasional user interface refresh, the core of the program remains essentially the same – so there's still useful content in many of these old movies. We are posting them on our PVC Blog along with commentary about how a feature may have changed from its original release.
In this series, we share dozens of After Effects' hidden gems: useful tricks, shortcuts, and features accumulated in our 20+ years of working with After Effects.
In this entry-level project-based course, Chris shows you how to extrude and animate a flying logo using Illustrator, After Effects, and the powerful 3D plugin bundled with Creative Cloud, CINEMA 4D Lite.
AE Apprentice Curated Playlist
Lynda.com has organized our After Effects Apprentice online training course into a handy Playlist. Simply Subscribe to the playlist, and you'll be able to easily following along all 19 courses.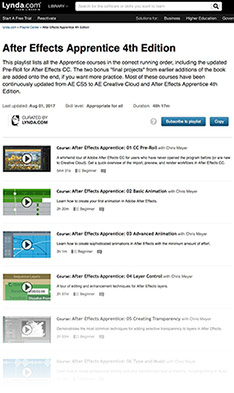 After Effects Apprentice Feedback
"I'm always been intimidated by After Effects. This series has taken that fear away!" – Tim Kloppensurg, via lynda.com
"Recently I got a chance to watch a few courses from your After Effects Apprentice series (after recommending it to my students). Although I have solid knowledge of AE, there's always something new I can pick up from it. One example tip was the ability to scrub a color in the timeline just like a numeric value. Somehow I missed it. Once I stumble on things like that, it makes my day. So thank you for all the hard effort, your methodical and pedagogical experience are second to none." – Eran Stern, SternFX
Written Tutorials
In addition to our video tutorials online, we keep an archive of all of our relevant columns and articles on our CMG Keyframes blog on ProVideo Coalition.